pvc plastic pulverizer mill grinder machine
pvc pulverizer or plastic pulverizer machine serves to making plastic powder from rigid plastic granules or flakes ;
The pvc pulverizer is widely used in plastic industry, chemical industry, rubber industry and building materials industry.
The main engine, the bearing housing, the chamber body, and the discharge pipe are provided with air and water circulation cooling system.
The PVC pulverizer blade is made of high-quality high-coil steel, which can be easily replaced after grinding.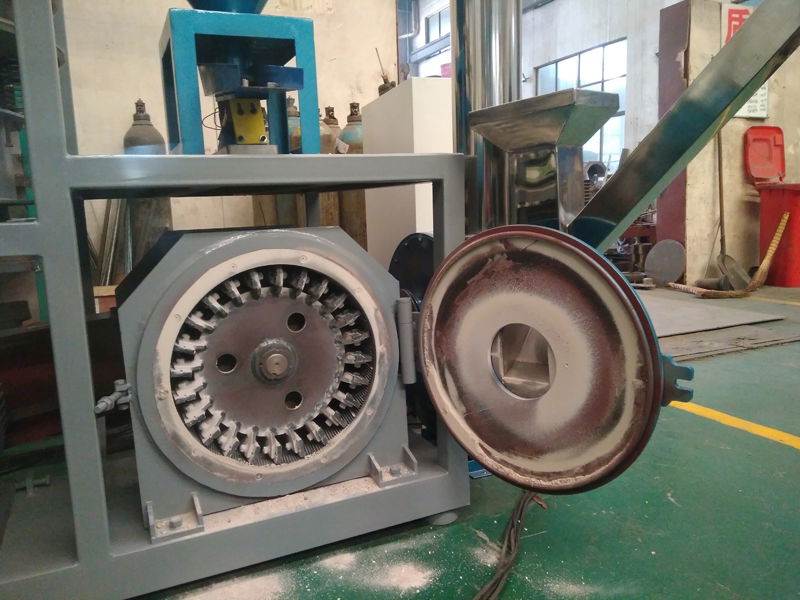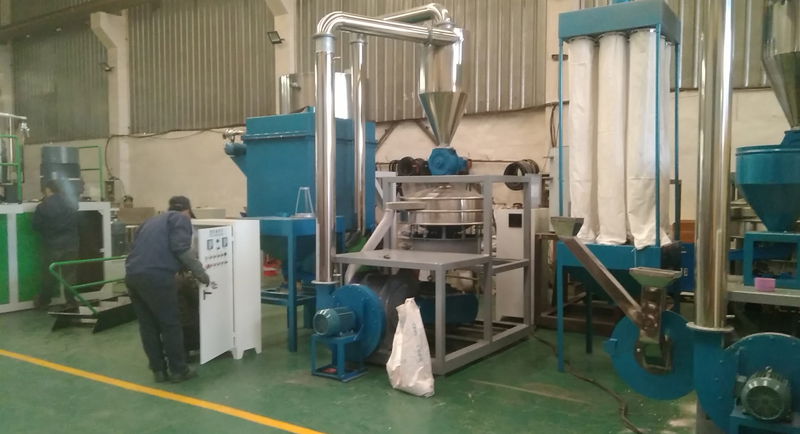 No

Type

MF600 pvc pulverizer

1

Diameter of pulverizer blade

600mm

2

Qty of milling blade

26pcs

3

Material of the disk

Skd-11

4

Rotating speed

3108 rpm

5

Main motor power

55kW

6

Air Blowerof pvc pulverizer

2.2 kW

7

Vibration sieve size

1200mm

8

Rotundity Vibrating sieve motor power

1.5kW

9

Size of processed powder can achieve

20-60mesh

10

Capacity (for 30mesh)

PVC :350Kg/h;

11

Milling room cooling way

Water cooling

12

Main shaft bearing

ZWZ

13

Oil seal

HSH

14

Temperature of shaft

<85 ℃

with cooling and lubricating system

15

Contact material

Stainless steel304

16

Other material

Carbon steel

17

Feeding speed adjusting

Hopper valve, shaking frequency

18

Rotundity vibrating sieve

30mesh

19

Wind-sending pipe

Stainless steel304

20

Cyclone separator

Stainless steel 304

21

Dust catcher of pvc pulverizer

Collecting flying dust

22

Control box

Buttoncontrol,

RKC tem-controller

Schneidercontactor ,

voltmeter ,amperemeter