pvc compounding mixer
SHR-500A High speed hot pvc compounding mixer:
1. Application:
Mix plastic raw material with additives
2. Output: ≤900kg/h
3. Equipment components:
A. hot mixer
B. Electric control cabinet
4. Features:
Mechanical parts:
Pot body adopt SUS304 stainless steel which has very good smooth and rigid surface with features of wearable, corrosion resisting,heat resisting, no-stick with raw material
Hot mixer cover material adopt ZL102 casting aluminum with polished surface
Hot mixer open adopt cylinder pneumatic drive; the main shaft of hot pvc compounding mixer adopt high quality bearing which has features of reliable stable working performance.
Hot sealing adopt silicon rubber sealing with reliable sealing effect and not deformation even at high temperature.
Electric parts of pvc compounding mixer:
Adopt intelligent RKC /Omron thermo control; Adopt famous brand motor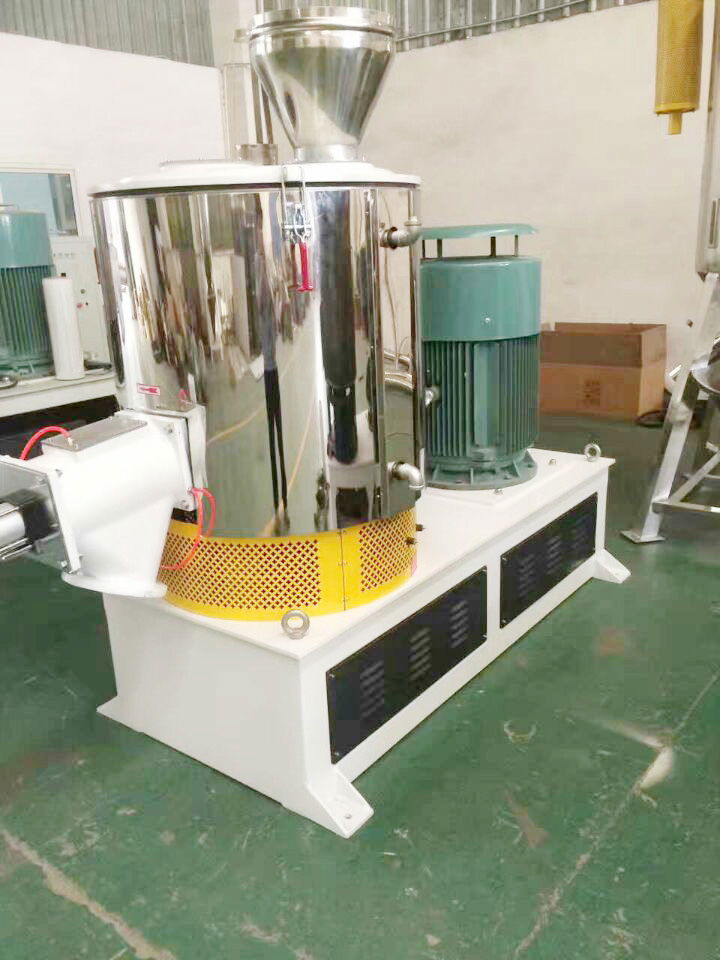 5. Parameter of hot pvc compounding mixer
No

Model

/

SHR-500A mixer units

adopts good quality sealing and good quality air cylinder

adopt Schneider AC contactor

1

Hot mixer

2

total volume of hot mixer

L

500

3

effective volume of hot mixer

L

375

4

material mixing weight/batch

㎏/batch

≤160

5

Output

㎏/h

≤900(take hard PVC material as standard)

6

motor power

KW

47/67

7

Blade rotary speed

Rpm

Adjustable

8

Diameter of discharge outlet

mm

220mm

9

heating method

/

High speed Self-friction

10

Driver motor

/

AC motor

11

Quantity of stirring blade

pcs

3(1Cr18Ni9Ti)

12

mixing time

min/batch

8-10

13

Inner material of hot mixer




Stainless steel 304

14

Thickness of stainless steel

mm

8mm

15

Air cylinder brand

/

AirTac brand

16

overall size

mm

2400×850×1630

17

Weight

kg

1700




Electrics control box

1

AC contactor

/

Schneider

2

Temperature controller

/

Omron or RKC

3

Inverter brand

/

ABB Brand

4

Size of control panel

Mm

700×500×1500

5

Weight of control panel

kg

120